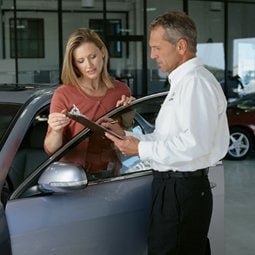 Qualified Ford Service and Repairs in Park Rapids, MN
Ford drivers know that when they've chosen a brand with a strong reputation for reliability and durability. However, even the toughest Ford models won't go far without proper care and maintenance. The service center here at Park Rapids Ford is here to provide that maintenance with durable OEM parts and qualified Ford technicians. This auto shop is here to make sure you get the most from your vehicle.
Routine Maintenance and In-Depth Repairs
The Park Rapids Ford service center handles a broad spectrum of services. The bulk of our appointments are in the form of routine maintenance -- regular preventative services that all cars need to keep running properly. This includes services like wheel alignments, brake inspections, oil changes, and others. However, we can address other maintenance needs as well. If you encounter an unknown problem or find damaged parts, our team can take a look and repair the issue.
Certified Ford Technicians
We work hard to make sure our service center is staffed by the best technicians around. Our team is full of certified Ford mechanics who know the fine details of Ford maintenance and repairs practices. They know exactly how to take care of your vehicle correctly so you can get the most out of it for the long road.
Schedule Online, On the Phone, or In Person
We're happy to help you schedule service appointments whenever you need them. We make it easy with our simple online scheduling tool. Fill out your information, choose a date, and submit the request. We'll get back to you with a confirmation in no time. We can also schedule your appointment in person or over the phone!